Innovative Development for Strategic Partners
We build impressive web and mobile platforms
thanks to our collaborative partner approach.
GET STARTED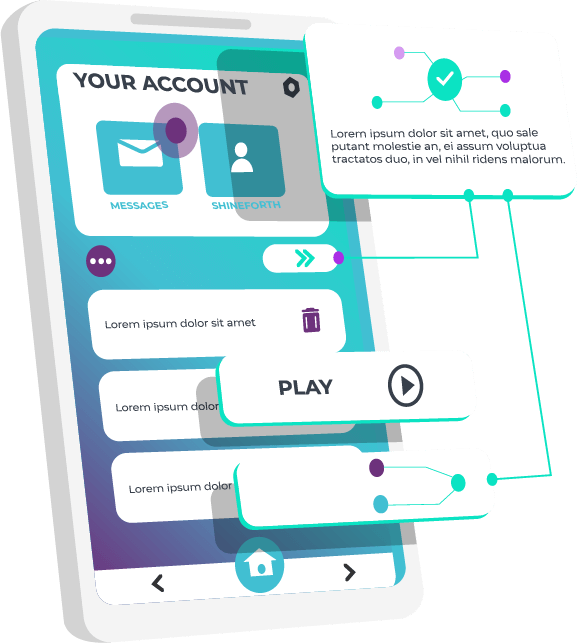 CASE STUDY
hangry with friends
Hangry With Friends is a new app that makes it easy to decide where you're going, when, and who's coming.
LEARN MORE
Partnership for Long-term Success
"We would recommend ShineForth to any company that is looking for a collaborative company to help get their message across, as well as catch the look and feel they are seeking. Working with ShineForth has been a fantastic experience for us!"
Andy Hawkins - President Concentric Corporation
---

"Jon and the Shineforth team jumped into a difficult project for us and handled it expertly and professionally. It became obvious that we found a true partner who looked out for our best interests, and who advised us candidly and effectively. I can't recommend Shineforth enough, they truly go above and beyond."

Mike BrueningSenior Manager, Digital Marketing

---

"We've worked with ShineForth on different web development projects over the past year and they have delivered above and beyond time and time again."

John MannHead of Growth

---

"Jon is one of the brightest, most professional colleagues with whom I've had the privilege to work. He brings expert knowledge, experience, a genuine love for people, and a commitment to excellence that is rarely seen."

Julie ArmstrongLearning and Development Strategist

---

"ShineForth is one of the most knowledgeable, experienced and well-rounded development firms I have found in the midwest. Couple the high level of competency with a fantastic price point and you have a software development value proposition that simply can't be beat!"

Eric JohnsonOwner/Entrepreneur

---

"The ShineForth team is fantastic to work with. Extremely involved and responsive, they are a premier group partner with. Their expertise shows in everything they do."

Brent Klein-HorsmanMarketing

---

"The ShineForth team is awesome. They have helped us identify and implement customized technology and web solutions that add real value to our business."

Davin BickfordCOO

Strictly Business

---

"Jon is amazing to work with and he's so knowledgable. When he met with our business, he explained things in a way we could all understand and he never tried to push anything on us or sell anything."

Hannah HundleyEditor

Fully Promoted

---

"Jon crafts custom solutions for his clients and works diligently to maintain long-term, satisfied customer-partners. His interest in his client's success sets him apart from his competition"

Cary Waldo
MOBILE APPS
Modern mobile development for iOS and Android
We offer iOS and Android development services using intelligently architected, cross-platform technologies. Our thoughtfully orchestrated user experience design process focuses on collaboration and exceeding expectations.
LEARN MORE
WEB DEVELOPMENT
Beautifully crafted websites & Innovative web apps
Your ideas crafted beautifully with expert software that outperforms business expectations. Our full-stack, cloud developers use technologies that are proven, innovative and rock-solid.
LEARN MORE
CLOUD PLATFORMS
TECHNOLOGY THAT ACCELERATES BUSINESS
No matter the complexity, our cloud platforms use the best tools and architecture possible to achieve maximum business outcomes. Easy to scale, effective and secure, we focus on powering a positive return on your investment.
LEARN MORE
Expert crafted, rock-solid architecture, innovative design
START POWERING YOUR COMPANY WITH OUR SOLUTIONS
LET'S TALK